Its All Legal – Law-Fully His!
God has a throne whose foundation is righteousness and judgment which stands for the law (Psalms 97:2). In the sanctuary the mercy seat represented the throne of God which sat upon the ark which contained the law, foundation of God's throne. The law of God is the very expression of God's character. Salvation is legal matter.
Pastor Randy Skeet is conducting a week of prayer at the Chula Vista SDA Church, California from 6/9/2012 to 6/16/2012. It's All Law – Full: This is the second sermon given on the Sabbath of 6/9/2012 during the divine service. The theme of the week of prayer is IT'S ALL LEGAL. The sermon is entitled "IT IS ALL LEGAL". Pharaoh set Joseph over all the land of Egypt and told him "..only in the throne will I be greater than thou". Gen 42:41,40. The throne is the highest position.  Salvation is legal matter. Damnation is a legal matter. It all revolves around the law. It requires that disobedience is punishable by death. Jesus died for us to pay the price for the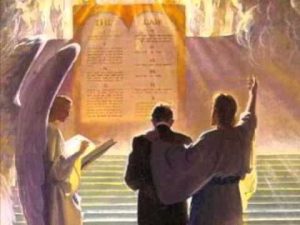 sinners to fulfill the requirement of the law. When all of our life is covered by the life of Christ then we have fulfilled the requirement of the law and do not have to die. Jesus has the right to save everyone who repents and gives his life to Him. It is illegal for Jesus to save the life of someone who did not surrender his life to Jesus. It is a legal matter. ' We don't need the law' is a satanic teaching. To conquer God's kingdom and overthrow Him, Satan needs to overthrow the law of God. We need to come to the place where we shall say "I love the law of God".
View more from Pastor Randy Skeete at http://randyskeete.com/
Questions – Comments – Prayer requests – Suggestions – Use our contact form.