When Satan brings up your past, Remind him of his future.
Revelation Prophecy Seminars – Lesson 5
Our chapter deals with a very important question. How does onw become, and remain a Christian? How does one receive forgiveness and peace, and grow to overcome and be victorious over sin?
To begin, let;s illustrate. Two monkey could be mated, and produce another monkey, two cats can do the same. However two saints who love the Lord can get married, but they cannot produce another saint! The baby is born with a sinful nature, for all who are born only once are born in sin. And the problem is the world today is that all have sinned! Romans 3:23, "For all have sinned, and come short of the glory of God" Put in another way, the problem in the world is not crime, or war, or immortality, or drug abuse. It's the problem of sin! If we could take care of this one problem all other problems would end. And the reason we have such a problem is because the majority of people have only been born once!
John however in the book of Revelation sees in vision a different picture. God;s people in Revelation 7:9, "After this I beheld, and, lo, a great multitude, which no man could number, of all nations, and kindred and people, and tongues, stood before the throne, and before the Lamb, clothed with white robes, and palms in their hands." God's people are all dressed win white. What do the white robes symbolize, and what made them worthy to wear them? Revelations 3:5, "He that overcometh, the same shall be clothed in white raiment; and I will not blot out his name out of the book of life, but I will confess his name before my Father, and before his angels." They are dressed in white because they overcame sin! This is a theme throughout Revelation. Notice Revelation 21:7 "He that overcometh shall inherit all things; and I will be his God, and he shall be my son." We see that we must especially have victory over the beast. Revelation 15:2, "And I saw as it were a sea of glass mingled with fire; and them that had gotten the victory over the beast, and over his image, and over his mark, and over the number of his name, stand on the sea of glass, having the harps of God." A little later John was shown that "the gates of heaven will allow nothing in that defiles" (Revelation 21:27). So the question is, How do we get rid of sin and defilement, and become victorious Christians dressed in white? The only answer to this question is to be born again. Unless this happen, the unregenerate heart cannot be kind, honest, and pure. When a man is born again he becomes a new creature, and receives the power of God and the Holy Spirit which gives him victory. Unless this happens, we cannot change our sinful natures.
What can we do? In life there are only four things you do that are really important.
1. Be born, 2. Be born again, 3. Marry, 4. Die. All else is related to these four things in a secondary nature. But number two is what we want to talk about being born again. The business of taking a sinner, having his life cleansed through the blood of Christ and then empowering him through the Spirt. Having made that proposition, let's see the three simple steps it takes to accomplish this.,
1. Repentance, 2. Confession, 3. Conversion.
REPENTENCE
Romans 2;4, "Or despisest thou the riches of his goodness and forbearance and longsuffering; not knowing that the goodness of God leadeth thee to repentance?" What is repentence? It's sorrow for sin, becoming disgusted with the life of sin, and desiring to turn away from it. Now the Bible says "the goodness of God" leads to that! People often feel they have gone beyond hope, they want to do right, they want  a better life, but feel God could never accept them. God answers us, "You can't even want to do right. "For it is God which worketh in you both to will and to do of his good pleasure." So if you are a person who is tired of sin and guilt, and is now seeking to serve God and live a better life free from guilt and sin, you can know that;s the power of God already working in you and leading you to repentance. The wonderful thing about this first step is that God does it for you, and leads you to repentance! John 6:44, "No man can come to me, except the Father which hath sent me draw him: and I will raise him up at the last day." The Father draws you! We ought to praise God. He is drawing us! It's because of his desperate love for us. God hates sin, but loves sinners.
Now that's the first step. Some religions stop here and don't go on to steps two and three. However, any religion that offers repentance without offering victory is worse than no religion at all. Here is why. A person willfully sinning and not really willing to forsake sin begins to harden his conscience, driving the Holy Spirit away. The religion of Christ not only pardons and forgives. it keeps us strong and gives victory. You never have to be a slave to the devil. There is victory in Christ, and power in the blood! So we progress to step two.
CONFESSION
After you make that step of repentance the second step of confession. It means getting on your knees in private and telling God your sins and asking for forgiveness and power to overcome that sin. We must recognize that God is a friend! Christ didn't come down and die because He didn't love people. Nor did He come to condemn you! John 3:16-17, "For God so loved the world, that he gave his only begotten Son, that whosoever believeth in him should not perish, but have everlasting life. For God sent not his Son into the world to condemn the world; but that the world through him might be saved." He wants to see how many He can save! So God invites us to come to Him as we are, in private, and confess our sins. Matthew 6:6, " But thou, when thou prayest, enter into thy closet, and when thou hast shut thy door, pray to thy Father which is in secret; and thy Father which seeth in secret shall reward thee openly." We can come boldly. Hebrews 4:16, :Let us therefore come boldly unto the throne of grace, that we may obtain mercy, and find grace to help in time of need." There is only one Mediator, Jesus Christ. First Timothy 2:5, "For there is one God. and one mediator between God and man, the man Christ Jesus.: You don't need a priest or idol to pray to, you can go to Jesus alone!
People may ask, "Is it true God sees and hears all that you do? If so. Why confess? Let's illustrate: If you hurt someone you love, why do you go to them and say "I'm sorry, forgive me?" Simply because you feel guilty, and you want to get rid of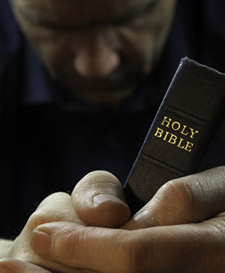 that guilt and feel forgiven. It's the same with God. Confession is not informing God, it's God's way to help us get rid of our load of guilt. Like an apology, it gets it off your chest! If you're a liar, adulterer, or murderer, tell Him. Know His one interested is to save you, to take your sin and forgive you! God is a friend. He love to forgive. Don't be afraid, come boldly!
Now the question may come. "How do I know He hears and forgives me?"  Only by FAITH.  How do you get faith?  Romans 10:17, "So then faith cometh by hearing, and hearing by the word of God."  By the Word!  What does the Word say?  First John 1:9, "If we confess our sins, he is faithful and just to forgive us our sins, and to cleanse us from all unrighteousness."  Psalm 86:5, "For thou, Lord, art good, and ready to forgive; and plenteous in mercy unto all them that call upon thee." Proverbs 28:13, "He that covereth his sins shall not prosper: but whoso confesseth and forsaketh them shall have mercy.  Isaiah 1:18, "Come now, and let us reason together, saith the LORD: though your sins be as scarlet, they shall be as white as snow; though they be red like crimson, they shall be as wool."  Micah 7:18-19, "Who is a God like unto thee, that pardoneth iniquity, and passeth by the transgression of the remnant of his heritage? he retaineth not his anger for ever, because he delighteth in mercy.  He will turn again, he will have compassion upon us; he will subdue our iniquities; and thou wilt cast all their sins into the depths of the sea."   We could read hundreds of texts, but when God speaks, it's final!  God cannot lie.  You must have faith in the Word, that God will do what He says.  For without faith you cannot please God (Hebrews 11:6).  So you begin with faith.
James 1:4-7 says, ask in faith.  "But let patience have her perfect work, that ye may be perfect and entire, wanting nothing.  If any of you lack wisdom, let him ask of God, that giveth to all men liberally, and upbraideth not; and it shall be given him.  But let him ask in faith, nothing wavering. For he that wavereth is like a wave of the sea driven with the wind and tossed.  For let not that man think that he shall receive any thing of the Lord."  If you do not pray in faith believing God will do what He said then God will not answer.  I've heard people say, "well, I believe.  I guess prayer can't hurt."  As if they are going to take a chance on God that He might forgive them!  We don't "take a chance on God."  Faith is knowing that because God said it, that settles it.  Jesus did a lot of healing and miracles while on earth, but He always said, "According to your faith, it will be done."  In 1 John 1:9, God promises to forgive.  You know its true because God said it, and when you believe, it is done.
Some people say, "I can't believe unless I see."  Let's challenge that.   We are all creatures of faith simply because we are creatures of limitation.  We really do live by faith.  We drive cars by faith believing that the mechanics put them together right so the brakes, steering, and tires work.  We eat food and drink by faith trusting that the farmers and inspectors have done their jobs well.  And yet, though we live by faith in life, when it comes to God who has never been proven wrong, we still question.  If we believe, let's believe all the way and have peace knowing we are forgiven.
A common mistake many people make is the look for a certain "feeling" as evidence of their forgiveness.  That's not how it works.  It's all faith, no feeling.  Feelings are related to emotion.  You may never "feel" like you are forgiven, but you know you are because God said so. (See John 20:24-29)
Now, how does the Lord take care of man's sins that have been confessed?  The Bible uses two words, Justification and Sanctification.  What do these words mean?
Justification is the business of justifying one- taking away their fault and guilt.  Sanctification comes from the Latin word "salus" or "sanctus" which means holy, or making one holy.  Justification takes care of past sins.  Sanctification keeps us holy and overcoming in the future.  Now the Bible uses these two terms related to these.  1. Imputed Righteousness, 2. Imparted Righteousness.  God justifies us through imputed righteousness, that is the righteousness of Christ.  Sanctification comes through imparted righteousness of Christ.  Impute means give credit for.  Impart means share as is needed.
Let's illustrate:  Here's a man who sinned 20 years.  He comes to Christ just as he is.  He asks God to forgive him.  God then takes the man's 20 years of sin and forgives him.  That is justification, it's a free gift from God, a pardon we don't deserve.  Christ then covers this man's sin, by imputing His righteousness (His sinless life) to that man's sinful life.  So when God sees this man, it's not in his sin, but rather clothed in Christ's imputed righteousness, free from sin.  That's why it's called amazing grace.  Christ has earned the right to take your sin and guilt.  Now when that happens you are His child, forgiven and faultless.  Jude 1:24, "Now unto him that is able to keep you from falling, and to present you faultless before the presence of his glory with exceeding joy."
But it's here where people often get discouraged because they discover they are still human.  In the morning they are on a spiritual high, and yet before the day is over they have lost their temper, maybe cursed, and then the devil (the accuser) jumps on their back and says, "Ah Ha! There is nothing to your experience, you're still a lousy sinner!"  They get discouraged and say, "I guess it wasn't real."    The question is, how do you remain a Christian through Christ's imparted righteousness and sanctification?  Let's be encouraged with Paul's example as he wrote about his own experience.  Romans 7:18, 19, 23-25, "For I know that in me (that is, in my flesh,) dwelleth no good thing: for to will is present with me; but how to perform that which is good I find not.  For the good that I would I do not: but the evil which I would not, that I do.  But I see another law in my members, warring against the law of my mind, and bringing me into captivity to the law of sin which is in my members.  O wretched man that I am! who shall deliver me from the body of this death?  I thank God through Jesus Christ our Lord. So then with the mind I myself serve the law of God; but with the flesh the law of sin."  Here is Paul, born in sin, but now accepting the Lord with his mind.  His mind wants to be kind, honest, and pure, but the flesh wants to be mean, dishonest, and filthy.  There's a conflict.  Who can help?  Romans 7:25 and 8:1, :I thank God through Jesus Christ our Lord. So then with the mind I myself serve the law of God; but with the flesh the law of sin.  There is therefore now no condemnation to them which are in Christ Jesus, who walk not after the flesh, but after the Spirit."  
You see, you're not an angel, you're you and you have to grow in grace..  That takes time, prayer, believing, faith and being tested.  As you grow, you become stronger and stronger, through imparted righteousness.  Christ not only begins, but He finishes the work in our lives.  Paul says we have a problem of "sin in the flesh" and Jesus told us how to overcome it.  Matthew 26:41, "Watch and pray, that ye enter not into temptation: the spirit indeed is willing, but the flesh is weak."  "Watch and pray"  or as Paul said, "pray without ceasing."  The remedy for weak flesh then is watching and prayer.  The word "watch" means "study" and the idea is you must put the Word of God in your heart.  This is the single most important thing for a Christian to do.  Daily, time must be spent in the Word of God.  When the Word goes in, sin goes out!  Psalm 119:11, "Thy word have I hid in mine heart, that I might not sin against thee."  John 8:31, "Then said Jesus to those Jews which believed on him, If ye continue in my word, then are ye my disciples indeed."  John 15:3, "Now ye are clean through the word which I have spoken unto you."  Colossians 3:16, "Let the word of Christ dwell in you richly in all wisdom; teaching and admonishing one another in psalms and hymns and spiritual songs, singing with grace in your hearts to the Lord."  Combine this with prayer.  When temptation comes, perhaps a moment of anger, and you are tempted to swear, you can experience victory.
There was once a woman who became a Christian.  More than anything she wanted to win her unbelieving husband to the Lord.  Upon rising one  morning she knelt in prayer and began to read the gospels.  Her heart filled as she went downstairs to fix her husbands favorite breakfast.
Awhile later her husband came down and she greeted him with a pleasant "Good morning dear!"  His gruff reply was, "What's so good about it?"
Realizing he was in a bad mood, she quietly brought him his breakfast with a smile.  He took a look and angrily said, "I hate greasy eggs!"
The woman felt bad and went back to the stove and carefully fried two more eggs, being sure they were not greasy.  She scarcely had set them down before her husband blew up again.  "Who ever taught you to cook, can't you do anything right?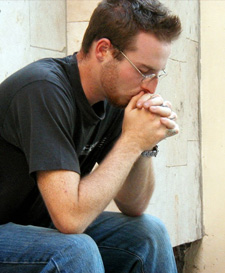 These eggs are greasy!"
The wife felt a rush of anger, every fibre in her flesh began to quicken.  She felt an overwhelming urge to curse this ungrateful wretch of a husband and tell him where to get off.
What should she do?  Pray!  What kind of prayer?  A desperate cry for help, she's in trouble.  Should she kneel?  No, prayer is not posture, pray standing.  Should she go back into the bedroom?  No, she's in trouble in the kitchen, pray there!
Here's the key.  It is difficult pray and sin at the same time.  So when she prayed, heaven's storehouse of power was hers.  Since she already put God on the throne of her heart through study, God imparted His righteousness to her and gave her victory.  When she felt like yelling, the Spirit took over and words of kindness, love and longsuffering came out.  Within a year, that man saw such a demonstration of Christ in her that he became a devout Christian.  That's victory.  How did she do that?  She didn't.  Christ in her did.  It's that simple.
By spending time in God's Word, the Holy Spirit dwells in you and will prompt you as temptation comes.  As you pray, all heaven's power is yours.  Christ imparts that power to speak kindly rather than curse, and you have gained a victory. How, Christ's imparted righteousness gave it to you!.  That's sanctification.
When you make a decision to follow the Lord don't worry about two years ahead.  Matthew 6:34 says, "Sufficient unto the day is the evil thereof at a time."  Wake up in the morning and say, "Lord keep me today."  One day at a time.  If He can keep you victorious one day, then he can keep you two days; if two days, then a week, a month; a year – for the rest of your life!  Claimed and kept.
And I must add, if you make a mistake and fall, don't get discouraged.  say, "Lord have mercy, forgive me and try me again."  The Lord will wash away that sin and empower you to go on.  First John 2:1, "My little children, these things write I unto you, that ye sin not. And if any man sin, we have an advocate with the Father, Jesus Christ the righteous."  We have a go between.  Let us come boldly to find mercy.  What kind of mercy?  Imputed righteousness to cover the mistake, and imparted righteousness to overcome in the future.
CONVERSION
Then you are truly born again, victory after victory will develop you daily as a new creature.  Second Corinthians 5:17, "Therefore if any man be in Christ, he is a new creature: old things are passed away; behold, all things are become new."  You will soon hate what you one loved, and love what you once hated.  Taste and see hos sweet victory over sin is!
The biggest problem we encounter is people don't want to give up sin.  While some people run from sin, others crawl away, hoping it will catch them.   There are precious sins we love and we walk with Christ in one hand and sin in the other.  That can't be done.  No man can serve two masters.
It doesn't matter how bad you have been.  In the Bible we read the names of murderers, prostitutes, and all kinds of sinners who were forgiven and are going to heaven.  God's power can save to the uttermost.  All you must do is decide whether or not you want to go to heaven and be saved.  The time to decide is now.
As you experience the joy of repentance, the peace of confession and forgiveness of sin, and the power of victory over all sin, you like will be richer and more abundant.  When Christ comes, you will be among those who enter heaven, victorious and overcoming to God's glory.  Revelation 3:5, "He that overcometh, the same shall be clothed in white raiment; and I will not blot out his name out of the book of life, but I will confess his name before my Father, and before his angels."  Revelation 21:7, " that overcometh shall inherit all things; and I will be his God, and he shall be my son."
 Assurance Of
Salvation
Jesus has given us many precious promises in His word.  The Bible says that claiming these promises by faith makes us partakers of the divine nature now (2 Peter 1:4).  It is impossible to believe these magnificent promises and not have assurance now.  That is why Jesus gave them to us.  Following is a list of twenty blessed promises.  There are many more just as clear.
He will keep you from falling, Jude 24.
Judgement will be given to (or in favor of) the saints, Daniel 7:22.
He leads you in the path of righteousness, Psalm 23:3.
He gives you victory now, 1 Corinthians 15:57.
He who started a good work in you will finish it, Philippeans 1:6
Jesus is your attorney, 1 John 2:1
The Father also loves you, John 16:27.
He promises forgiveness and cleansing from sin daily, 1 John 1:9.
He forgets your sin and iniquity, Hebrews 8:12.
Jesus assures you and asks that you be bold, Hebrews 10:19-22.
He promises to confess you before his Angels, Revelation 3:5.
Overcoming is promised by His blood, Revelation 12:11.
He offers you the wedding garment, (His righteousness) free, Matthew 22:11.
No one can take you out of his hand, John 10:29.
If you believe on him you cannot be condemned, John 5:24.
He always causes you to triumph, 2 Corinthians 2:14.
Jesus does the miracle-working needed in you, Romans 8:3, 4.
With Him everything is possible for you, Mark 10:27.
He promises to take your worries, 1 Peter 5:7.
If you are willing to follow Him, He accepts you, as you are, 2 Corinthians 8:12.
It is wonderful news that Jesus keeps His word.  Titus 1:2.  When he makes a promise, He keeps it.  He promises assurance.  Accept it and it is yours.