Black History Month.
In 1775 Paul Revere made the famous midnight ride.  He was given the task of riding to Lexington, Massachusetts, with the news that regular troops were about to march into the countryside northwest of Boston. According to Warren, these troops planned to arrest Samuel Adams and John Hancock, who were staying at a house in Lexington.  We are all familiar with the story.  What is not widely known is that Wentworth Cheswell, a black patriot leader and one who later would become the first African American elected to public office in the United States, also rode with Paul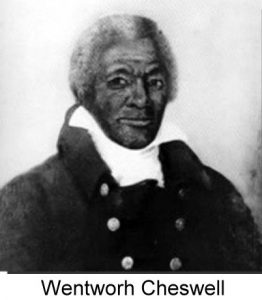 Revere to alert everyone that the British were coming.
In addition to being a patriot, Cheswell was a respected schoolteacher, church leader, and historian. He also became America's first black judge in 1768. That's seven years before America won her independence and about 100 years before the abolition of slavery in the United States.
James Mink became a millionaire – some sources say billionaire, along with his brother, George. Both started hotels, Courier companies and taxi services, in Kingston and Toronto in the mid 1800's.
Black history.  It is sad that a month is needed to reflect on black history.   Black inventors, leaders and business people made significant contributions in science, medicine, war strategy, infrastructure development, law and order, entertainment, and so much more.   You would think it would be easy to just add the omitted records to the history books.  These stories were almost forgotten, but every year since the 1995 in Canada, as a country, we celebrate the once hidden truths and share them with others.
Elijah MacCoy invented a special oil drip mechanism for trains.  Many others tried to copy his invention, but conductors would request his by name so that there would be no confusion.  "I want the Real McCoy," they would demand.
Literally, there are thousands of recorded stories deliberately left out of our mainstream history books but are recorded in the patent records and original historical documents.  Today they are available anytime digitally on-line.
———————————————————-
How God views nationality?  Really, the Bible seems to identify two groups.  God's people, and everyone else.
God's people are referred to as Children of Israel, Israel or Hebrews.  After Rahab helped the spies at Jericho, she and her family became grafted in as part of the Hebrews.  A Jehrico history month may not have been on the calendar.  The only time nationalities are defined is speaking about people other than Gods people.  There were the Israelites and the Hittites, the Gergashites, the Amorites, the Canaanites, the Perizzites, the Hivites and the Jebusites and the other ites.
Of the people that left Egypt, only two made it to the promised land.  It was the children of Israel in a mixed multitude that left Egypt.  And it was Caleb, Joshua and their descendants of the mixed multitude that entered Canaan.  But by that time, they were referred to as simply, Israelites or Children of Israel.  Joshua 1:2, "Moses my servant is dead. Now then, you and all these people, get ready to cross the Jordan River into the land I am about to give to them—to the (Children of Israel)."
We are also to be grafted in.
Galatians 3: 26-29, "For ye are all the children of God by faith in Christ Jesus. For as many of you as have been baptized into Christ have put on Christ. There is neither Jew nor Greek, there is neither bond nor free, there is neither male nor female:
for ye are all one in Christ Jesus.
And if ye be Christ's, then are ye Abraham's seed, and heirs according to the promise.
Hebrews 8: 10-12, "For this is the covenant that I will make with the house of Israel after those days, saith the Lord; I will put my laws into their mind, and write them in their hearts: and I will be to them a God, and they shall be to me a people:  And they shall not teach every man his neighbour, and every man his brother, saying,
Know the Lord:
For all shall know me, from the least to the greatest.  For I will be merciful to their unrighteousness, and their sins and their iniquities will I remember no more.
———————————————————–
At the age of 12, John Marrant, well known for being a musician, went to disrupt an evangelical presentation by Methodist preacher George Whitefield.  His plan was to play the horn while Whitefield was speaking.  As the story goes, his plan didn't succeed because once he heard the words of the evangelist "Prepare to meet thy God he promptly passed out.  Over the next few days, Marrant stayed and talked with a preacher and prayed until he found relief from his guilt.  He became converted.
After disagreements with his family about his new faith, he wandered in the wilderness, relying on God to feed and protect him. He was found by a Cherokee hunter and taken to a Cherokee town, where he was sentenced to death. However, he was spared, allegedly due to the miraculous conversion of the executioner.
Marrant lived with the Cherokee for two years and after returning to Charleston, he conducted missionary work with slaves, although some owners objected, until the start of the American Revolution.  In 1785, John Marrant became the first recorded black ordained Christian minister.
The march of God's people in the new world could not be limited to only one skin color or a few nationalities. During the great awakening, while some white southern Christian slave owners pressured denominations to dial back or stop their anti slavery rhetoric, Baptists and Methodists supported blacks in the development of black Christian leaders and licenced black men to preach.
Early independent black Baptist churches in the 1780's sprang up in Silver Bluff, South Carolina and the First African Baptist Church of Savanna Georgia.
During this time black missionaries headed west spreading the gospel.
Again..,  Since as far back as the 1740's, we find records of black inventors, innovators, business people, missionaries and evangelists.   Like in 1791 when Thomas Jennings received his first patent on his dry-cleaning invention, becoming the recipient of the first patent of a black inventor, there have been countless others that did great things.  It is hard to comprehend the hatred and resistance they endured.  Prior to 1791, it was not legal for blacks to hold a patent in the USA.  So it would have been easy to give up and hate the world, but they persevered.   Since then, and I will only mention a few inventions that came about because of black inventors:
Traffic Lights   –   Modern elevators
Clothes Dryer    –    The Super Soaker
Railway Crossing Signal    –    Lightbulb Filaments
The first electronic home security System that was invented by Marie Van Britton Brown in 1969
Microphones     –     Potato Chips
Pacemaker    –    Peanut Butter
Video Gaming     –     3D Movie Graphics
and the automatic gear shift
Black history is important.  History is important.  It helps to focus on who we are.  If we do not understand where our people have been, it is hard to comprehend how we should be living and where we should be going.
But, it is especially true as Christians.   We need to study and understand where spiritual Israel, the children of God, have been.  And how God has lovingly made a way for us.  Understanding our Christian past, we will understand how we should be living today and where we are going.  We are to remind ourselves of our journey with God through history and in our lives when we wake.  We are to meditate on it though our days and study it before we sleep.  We are not our own.  Because we have been bought with a price.  We must choose to serve Him and to be called His daily, recognizing we are children of the living God.  Spiritual Israel.