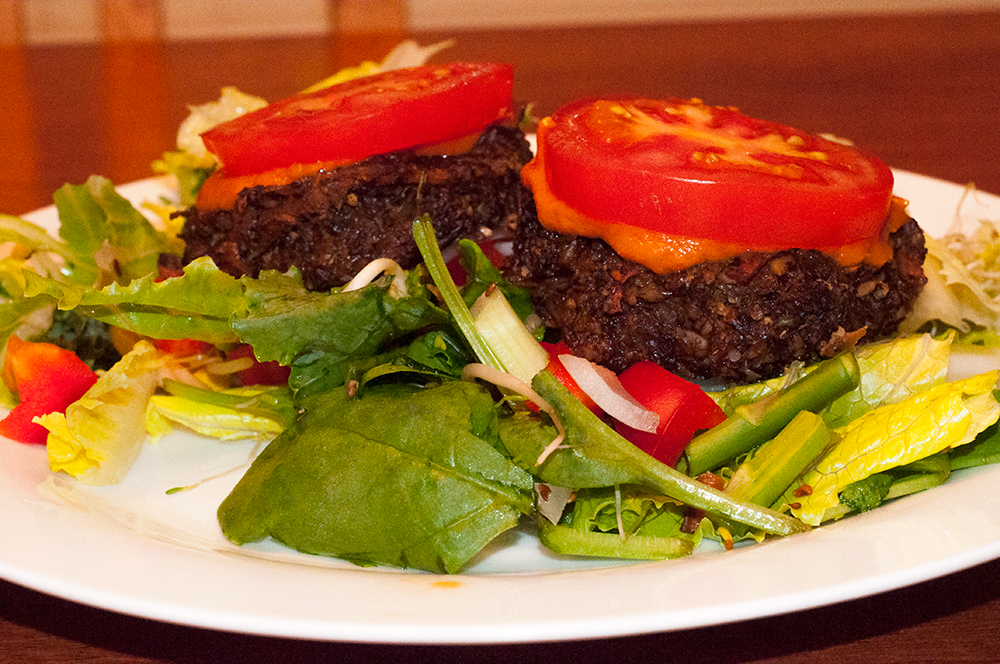 Marinated Portobello Cashew Cheese Burgers with Herbs & Tomatoes
Marinated mushrooms:
4 portobello mushrooms
1 tablespoon extra virgin olive oil
1 tablespoon liquid aminos (or soy sauce) 
Cashew cheese:
1 3/4 cups cashews
1/2 cup water
1/3 cup nutritional yeast 
Juice from 1 lemon
2 peeled garlic cloves
2 tablespoons miso
Salt and herbes de provence, to taste
Toppings:
Sliced tomatoes
Fresh chopped chives, spinach and parsley 
Anything else your heart desires 
To marinate the mushrooms: rub them down with the olive oil and liquid aminos then place in your dehydrator or oven at its lowest temperature for about 3 hours, or until they have softened and darkened and smell amazing.
While they are marinating, make the cashew cheese: blend all the ingredients until smooth and thick. Taste and adjust accordingly. Scoop into a bowl lined with cheesecloth and let it sit somewhere for at least 2 hours (or, if you've got time, let it age for a few days).
When everything is ready, spread your cheese onto your mushrooms and layer with herbs and tomatoes. You can double-shroom it (that is now a term) if you want, and/or use fresh mushrooms instead of marinated. Note: you're gonna have lots of left over cashew cheese. Let it sit in a quiet spot overnight then put in the fridge and eat within a week.