Life More Abundant
"Then spake Jesus again unto them, saying, I am the light of the world: he that followeth me shall not walk in darkness, but shall have the light of life", John 8:12.
There was a time when we walked in darkness.  Jesus says "I am the Light of the world,"  and if we follow Him we will not walk in darkness.   What a life that would be.  What a change that would be on our lives and our future trajectory.
"Know ye not that the unrighteous shall not inherit the kingdom of God? Be not deceived: neither fornicators, nor idolaters, nor adulterers, nor effeminate, nor abusers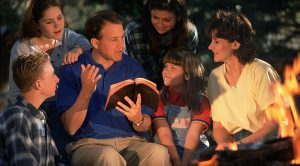 of themselves with mankind, Nor thieves, nor covetous, nor drunkards, nor revilers, nor extortioners, shall inherit the kingdom of God.  And such were some of you: but ye are washed, but ye are sanctified, but ye are justified in the name of the Lord Jesus, and by the Spirit of our God."  1 Corinthians 6:9-11.  There is something about following Jesus that is life changing.  What we used to be and the sinful habits we used to have we can  no longer have.  The victory is ours through Jesus if we accept it.  The transforming power of the Spirit of God creates in us new people.
"Therefore if any man be in Christ, he is a new creature: old things are passed away; behold, all things are become new." 2 Corinthians 5:17.  "Being confident of this very thing, that he which hath begun a good work in you will perform it until the day of Jesus Christ." Philippeans 1:6.
There is something about living to serve God.  All that are living have life, but the Bible speaks about abundant life, a life that most of us cannot even understand.  "The thief cometh not, but for to steal, and to kill, and to destroy: I am come that they might have life, and that they might have it more abundantly," John 10:10.
Consider the following:
Proverbs 14:27 – "The fear of the LORD is a fountain of life, to depart from the snares of death."
Philippeans 4:13 – "I can do all things through Christ which strengtheneth me."
Mark 9:23 –  "Jesus said unto him, If thou canst believe, all things are possible to him that believeth."
2 Timothy 1:7 – "For God hath not given us the spirit of fear; but of power, and of love, and of a sound mind."
Proverbs 16:9 – "A man's heart deviseth his way: but the LORD directeth his steps."
Hebrews 11:1 – "Now faith is the substance of things hoped for, the evidence of things not seen."
Matthey 6:33 – "But seek ye first the kingdom of God, and his righteousness; and all these things shall be added unto you."
Romans 8:28 – "And we know that all things work together for good to them that love God, to them who are the called according to his purpose."
Romans 12:1  – "Therefore I urge you, brethren, by the mercies of God, to present your bodies a living and holy sacrifice, acceptable to God, which is your spiritual service of worship."
There is a work for us to do.  Have humility, have faith, love God, allow God to direct our steps, seek the kingdom of God and be obedient.
If my people, which are called by my name, shall humble themselves, and pray, and seek my face, and turn from their wicked ways; then will I hear from heaven, and will forgive their sin, and will heal their land. 2 Chronicles 7:14.
In this time, two thousand years after the resurrection of Jesus, is it still necessary to avoid sin?  Are we expected to be holy?  Is this even possible?  When we look at 1 Peter 2:9, is this meant for Israel and the Jewish people?   "But ye are a chosen generation, a royal priesthood, an holy nation, a peculiar people; that ye should shew forth the praises of him who hath called you out of darkness into his marvellous light."  Paul explains that Gentiles are grafted in to the vine of Israel in Romans 11:17.  Consider also the following verses on obedience.  Is it obedience that makes us peculiar?
1 John 5:3, – "For this is the love of God, that we keep his commandments: and his commandments are not grievous."
1 Peter 1:16 – "Because it is written, Be ye holy; for I am holy."
Hebrews 12:14, – "Follow peace with all men, and holiness, without which no man shall see the Lord."
Revelation 14:12, – "Here is the patience of the saints: here are they that keep the commandments of God, and the faith of Jesus."
Matthew 7:21 – "Not every one that saith unto me, Lord, Lord, shall enter into the kingdom of heaven; but he that doeth the will of my Father which is in heaven."
James 1:22 – "But be ye doers of the word, and not hearers only, deceiving your own selves."
James 2:24 – "Ye see then how that by works a man is justified, and not by faith only."
John 14:21 – "He that hath my commandments, and keepeth them, he it is that loveth me: and he that loveth me shall be loved of my Father, and I will love him, and will manifest myself to him."
Jesus came to transform a people that lost their way in understanding the love of God.  His commandments are not a burden but demonstrate His loving character.  He wants us to have this character also.
"Let nothing be done through strife or vainglory; but in lowliness of mind let each esteem other better than themselves. Look not every man on his own things, but every man also on the things of others. Let this mind be in you, which was also in Christ Jesus."  Philippians 2:3-5.  (See also: John 15:9-11, Colossians 3:13, Ephesians 4:32 1John 2:6, 2 Corinthians 3:18)
Jesus came to  be the Lamb of God that would take away the sins of the world.  He did away with the need for the Mosaic Law which was against the people by fulfilling its requirement (Colossians 2:14) ultimately becoming the sacrificial lamb.  This He did perfectly, but also came to take the legalism and the abuse out of God's Holy Law, and by doing so correct the wrong understanding of the Character of God.  So Jesus gave examples from the Law to build better understanding of the principles of the Law.   "Ye have heard that it was said by them of old time, Thou shalt not commit adultery."  This is a cold letter of the law.   This does not represent the principle of love.  God is Love and asks us to 'Love the Lord your God with all your heart and with all your soul and with all your mind,' and to 'Love your neighbor as yourself.'.  Matthew 22:36-40.
So Jesus explained the principle perfectly in saying, "But I say unto you, That whosoever looketh on a woman to lust after her hath committed adultery with her already in his heart." Matthew 5:28.  Similarly, expanding on the Commandment, Thou shall not kill; Jesus again explains the principle of love.  "But I say unto you, That whosoever is angry with his brother without a cause shall be in danger of the judgment: and whosoever shall say to his brother, Raca, shall be in danger of the council: but whosoever shall say, Thou fool, shall be in danger of hell fire.  Therefore if thou bring thy gift to the altar, and there rememberest that thy brother hath ought against thee;  Leave there thy gift before the altar, and go thy way; first be reconciled to thy brother, and then come and offer thy gift." Matthew 5:22-24.
Jesus came to set the minds of the people right.  In fact concerning righteousness, he looked to the Scribes and Pharisees who are known for seeking righteousness (to the point of legalism), said "..That except your righteousness shall exceed the righteousness of the scribes and Pharisees, ye shall in no case enter into the kingdom of heaven."
The principles that Jesus teaches us through the apostles are to transform us to a life of liberty and love.  He wants us to have life and to have it more abundantly.  Our minds must have the peace that passes all understanding.  This is peace that cannot come from our natural tendencies in a life of darkness.  "Ye are the light of the world. A city that is set on an hill cannot be hid.  Neither do men light a candle, and put it under a bushel, but on a candlestick; and it giveth light unto all that are in the house.  Let your light so shine before men, that they may see your good works, and glorify your Father which is in heaven."
Ephesians 4:17-22, "This I say therefore, and testify in the Lord, that ye henceforth walk not as other Gentiles walk, in the vanity of their mind,  Having the understanding darkened, being alienated from the life of God through the ignorance that is in them, because of the blindness of their heart:  Who being past feeling have given themselves over unto lasciviousness, to work all uncleanness with greediness.
But ye have not so learned Christ;  If so be that ye have heard him, and have been taught by him, as the truth is in Jesus: That ye put off concerning the former conversation the old man, which is corrupt according to the deceitful lusts; And be renewed in the spirit of your mind; And that ye put on the new man, which after God is created in righteousness and true holiness.
Wherefore putting away lying, speak every man truth with his neighbour: for we are members one of another. Be ye angry, and sin not: let not the sun go down upon your wrath: Neither give place to the devil. Let him that stole steal no more: but rather let him labour, working with his hands the thing which is good, that he may have to give to him that needeth. Let no corrupt communication proceed out of your mouth, but that which is good to the use of edifying, that it may minister grace unto the hearers. And grieve not the holy Spirit of God, whereby ye are sealed unto the day of redemption. Let all bitterness, and wrath, and anger, and clamour, and evil speaking, be put away from you, with all malice: And be ye kind one to another, tenderhearted, forgiving one another, even as God for Christ's sake hath forgiven you."
Let us hear the conclusion of the whole matter: Fear God, and keep his commandments: for this is the whole duty of man. For God shall bring every work into judgment, with every secret thing, whether it be good, or whether it be evil.  Ecclesiastes 12:13-14.