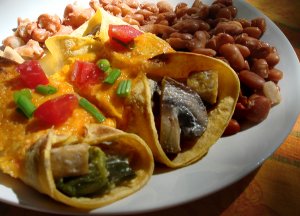 Vegetarian Enchiladas
I knew I would love this dish when I saw the recipe online.  After making a few modifications, well, lets just say that I love this recipe.  And I sincerely hope that you will also.
As you know, I am always looking for vegetarian dishes that I make for myself and my family, and to also surprise my meat eating friends.  Now, I am not saying this will fool anyone and that is not its intent. But to surprise them with how excellent a dish this vegetarian enchiladas is on its own merits.  So I invite you to give it a try this weekend and drop me a line on my contact page and let me know how it turned out.
ingredients
6  ounces firm tofu
1  small poblano pepper
1  tablespoon vegetable oil
1  8 ounce package sliced cremini mushrooms
1  teaspoon ground cumin
1/4  teaspoon curry powder
1/2  teaspoon salt
1/4  cup dairy sour cream
1  cup shredded old cheddar and Monterey Jack cheese (4 ounces)
8  corn tortillas

Chopped tomato, green pepper and green onion
directions
1.Drain tofu; cut into cubes. Stem and seed poblano; cut into strips. In a skillet heat 1 tablespoon oil over medium heat. Add tofu, pepper strips, mushrooms, cumin, curry, and salt. Cook for 8 to 10 minutes or until mushrooms and pepper are tender, turning occasionally. Stir in sour cream and 1/2 cup of the cheese.
2.Preheat broiler. Lightly oil a baking pan; set aside. Wrap tortillas in damp paper towels; microwave on 100 percent power (high) for 30 seconds or until warm and softened. Spoon mushroom filling into tortillas; fold over and place in prepared baking pan. Sprinkle with remaining cheese. Broil 4 to 5 inches from the heat for 1 to 2 minutes or until cheese is melted. If desired, top with tomato, green pepper and green onion.
Ya Esta!  Fantastic Vegetarian Enchiladas.