Reaching Out
Matthew 4:19: "And he saith unto them, Follow me, and I will make you fishers of men."
This was Jesus as He walked by the sea of Galilee, seeing two brethren, Simon called Peter, and Andrew his brother, casting a net into the sea: for they were fishermen.
Once Jesus had taught His disciples for three and a half years, after His death and His resurrection, He gave the great commission.
Matthew 28:18-20, "And Jesus came and spake unto them, saying, All power is given unto me in heaven and in earth.  Go ye therefore, and teach all nations, baptizing them in the name of the Father, and of the Son, and of the Holy Ghost:  Teaching them to observe all things whatsoever I have commanded you: and, lo, I am with you alway, even unto the end of the world. Amen.
(See also Mark 16:15 – 18 and Luke 24:47)
This 3 part series on personal evangelism will explore what it is, why we do it and ideas on how we do it.  Tonight we will explore the great commission itself and what it means for us today.
When we think of evangelism, often we think of going door to door dropping information or camp meetings, or smartly dressed people, usually in twos approaching others in the mall or on the street.
Evangelism is the preaching of the gospel or the practice of giving information about a particular doctrine or set of beliefs to others with the intention of converting others to the Christian faith. – Wikipedia
Websters Dictionary: Evangelism – the winning or revival of personal commitments to Christ.
In general, the Gospel or 'good news' is a message revealing why God created mankind back in the Garden of Eden. Man's destiny, if he is willing to accept it, is to live forever and have a relationship with God as a member of his family, with the same perfect, sinless character as He possesses. The means of accomplishing this awesome goal is through the life, ministry, death and resurrection of Jesus, who is mankind's one and only Savior and the ONLY means by which humans can have a close relationship with the Father.
The Gospel contains not only information ABOUT Jesus but also concerns the great and wonderful message he brought regarding the coming Kingdom of God on earth. It includes a call to repent of sin, to accept Christ's sacrifice for the forgiveness of those sins, to go under the waters of baptism and receive God's Spirit, and to live a life of obedience to God's laws, ways and will. – biblestudy.org
The time comes for everyone when they realize that life on this earth is not forever.  The life we observe around us is full of dangers that can take you out in a moment.  But if you are fortunate not to die from accident, disease, or violence, you will definitely die of old age.  This is what we observe every day, whether of people we know or things we see and read on the news.  As they say, "there are two certainties in life, death and taxes."  Notice they don't say "happiness."
Every day as far as you can remember you interacted with those around you in darkness.  Some grew up in the church but weren't fully aware, and others came to a knowledge of the truth later in their teens, or even later.  But once we come to a knowledge of God, things change.
1 Corinthians 6:9-11, "Know ye not that the unrighteous shall not inherit the kingdom of God? Be not deceived: neither fornicators, nor idolaters, nor adulterers, nor effeminate, nor abusers of themselves with mankind, Nor thieves, nor covetous, nor drunkards, nor revilers, nor extortioners, shall inherit the kingdom of God.  And such were some of you: but ye are washed, but ye are sanctified, but ye are justified in the name of the Lord Jesus, and by the Spirit of our God."
There was a time when we were all walking in darkness, some unaware and some aware.  But when we come to Him, we are washed, sanctified, justified in Jesus though the Spirit.
We are talking evangelism, reaching out to a sin-darkened world.
1 Peter 2:9-10, "But ye are a chosen generation, a royal priesthood, an holy nation, a peculiar people; that ye should shew forth the praises of him who hath called you out of darkness into his marvellous light:  Which in time past were not a people, but are now the people of God: which had not obtained mercy, but now have obtained mercy."
When we were called out of darkness, the Bible says that we are to declare praises of God.  A priesthood, a nation of evangelists spreading the Gospel to those that do not yet have it.
But how do we do this?
When I was younger, I believed that evangelists were people you would see standing in front of hundreds if not thousands, preaching and teaching the Kingdom of Heaven and the love of Jesus.  And yes, some are preachers.
Ephesians 4:11-12, "And He gave some, apostles; and some, prophets; and some, evangelists; and some, pastors and teachers;  For the perfecting of the saints, for the work of the ministry, for the edifying of the body of Christ."
Now that is clear.  We all have a work to do, and all work together for the edifying of the body of Christ.
To bring it down into simple terms, teaching is as simple as allowing your life to be a testimony to others of God's will being lived out in you.  Living according to God's will is going to make you a peculiar person.
Teaching can be as simple as declaring God's goodness in your life, His mercies, protection, His answers to your prayers, His life changing power!
Here is a funny example.  Someone you know approaches you at church and asks how your week was and you reply, "What a wonderful week, God has blessed me in so many ways.  I am so thankful."  Yet that same person a few days later at work has a friend ask the same question, "Hey, how was your week?"  And the reply is "What an awesome week, thank you for asking!"  Declaring God and His goodness to the believers and omitting God in conversation with non-believers does no one any good.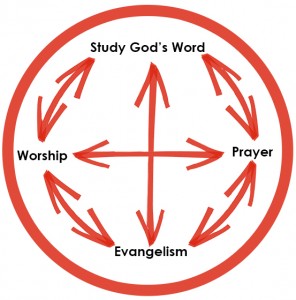 If you are taking part in this short series on evangelism, it may mean that you recognize that every person you know, drive by, buy from or sell to, stand behind or sit next to and every person in your family, is part of this great war or struggle for the hearts and loyalty of man.  This is sobering.  When you interact with people, how can you not want to share what you know?  How can you, walking in light, passively watch while friends and family are consumed by darkness of this world?
Ecclesiastes 12:13, "Let us hear the conclusion of the whole matter: Fear God, and keep his commandments: for this is the whole duty of man."
John 14:15, "If you love me, keep my commandments."  1 John 5:2-3, "By this we know that we love the children of God, when we love God, and keep his commandments.  For this is the love of God, that we keep his commandments: and his commandments are not grievous."
John 13:34-35 "A new command I give you: Love one another. As I have loved you, so you must love one another. By this everyone will know that you are my disciples, if you love one another."
Because we love God, because we are led by the Spirit of God, because we are obedient to the will of God we live our lives demonstrating the love of God to our friends, family and neighbors.  If God's will is that no-one perish but have everlasting life, then it should be demonstrated in our lives.  Imagine all your friends, family and neighbors having a saving relationship with God through Jesus.
Romans 10:13-15, "For whosoever shall call upon the name of the Lord shall be saved. How then shall they call on him in whom they have not believed? and how shall they believe in him of whom they have not heard? and how shall they hear without a preacher?  And how shall they preach, except they be sent? as it is written, How beautiful are the feet of them that preach the gospel of peace, and bring glad tidings of good things!"
Let our lives and our witness be the proof of the love of God and His power to transform sinners bringing us out of darkness into His marvelous light.
Ivan S.